There are various levels at which School Improvement is managed. These levels are frequently experienced as stages of development
Level 1: Improvement: situation-response: an intervention or contingency approach.
Using simple problem solving
Containment of undesirable situations
Opportunistic initiatives to make things better
School systems or Boards may impose policies from outside the the school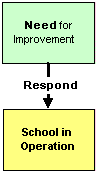 Level 2: Continual Improvement . Initially this level is simply being focused on achieving improvements where possible.
It may be applied in an opportunistic or episodic way.
In addition it may be initiated by annual planning cycles and reporting requirements.
Level 3: Continuous Improvement: Over time continual improvement may become more systematic and consistent. As a result this approach can develop into continuous improvement based on action research or the Plan-Do-Study-Act cycle: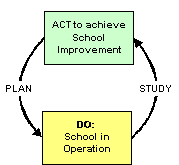 Level 4: Sustained Continuous Improvement. This is the mature stage of (school) improvement. CSI integrates continuous improvement and quality assurance by building improvement into the governance and culture of the school.
CSI requires
the development of a learning community that

systematically observes and studies itself in operation,

learns from that study, and,

captures the learning achieved as knowledge, skills systems and culture

and implements improvement on the basis of that learning on an on-going basis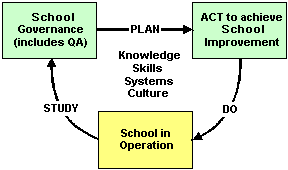 The net result is sustained success and well-being for all through
Shared purposes and understandings
Ways and means closely related to purposes (attention to processes)
Problem are solved and their likelihood of recurrence is reduced (releasing resources)
Tasks become easier releasing resources to be used for further improvement
Improved quality of outcomes
Less rework further releasing resources
...